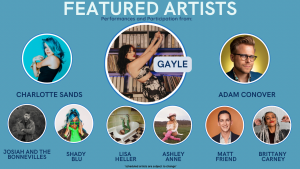 WHEN
Saturday November 11, 2023
WHERE
Central Connecticut State University – New Britain, CT
WHAT
Project:Live offers you a level of access, learning, and insider knowledge unavailable anywhere else. Join the Concert Ideas team, major touring artists, and industry professionals for a single-day boot camp for major events.
You'll get an exclusive chance to peak behind the curtain and learn some of the tricks of the live event trade, the opportunity to meet and network with planners from other schools, a chance to interact with artists on a personal level, a means to hear what matters most to performers when they consider coming to your school, and we'll end the day a kick-a$$ concert.
Activities, keynotes, interactive sessions, and some surprises will give you the tools, insight, and skills to build stronger major events and become more effective event planners.
Featuring live performances as well as group panels and talkbacks with the artists.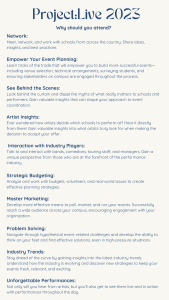 COST
$55 per student delegate
Includes conference registration, lunch, dinner, admission to all conference sessions and events including artist panel, comedy showcase and concert
SCHEDULE 
*schedule subject to change*
7:30am Registration opens
8:30am Welcome
8:45am CCSU Host School Presentation
9:15am Group Breakout & Presentation 1
10:15am Break
10:30am Concert Ideas Presentation
11:00am Group Breakout & Presentation 2
12:00pm Lunch
1:00pm Concert Ideas Presentation
1:30pm Group Breakout & Presentation 3
2:30pm Concert Production: 10 Facts You Need To Know
2:45pm Music Showcase 1
4:00pm Panel 1: Artists, Agents, Managers, Oh My!
5:00pm Comedy Showcase
5:45pm Dinner
6:45pm Group Breakout & Presentation 4
7:45pm Panel 2: Student Life Staff tells you What It Takes To get It Done
8:15pm Closing Remarks
8:30pm Music Showcase 2
11:00pm Goodnight!
Hotels Nearby
Courtyard by Marriott Hartford Farmington– 1.7 miles from CCSU
1583 Southeast Road, Farmington, CT 06032
Hampton Inn & Suites Hartford/ Farmington- 2.9 miles from CCSU
301 Colt Hwy, Farmington, CT 06032
*PROJECT: LIVE does not have discounts at these hotels or room blocks reserved. Attendees can stay anywhere they choose*
BROUGHT TO YOU BY



---
DISCLAIMER: Schedule, line-up, guests and performers subject to change. No refunds will be offered. If you have any special needs or requests, please contact us asap.