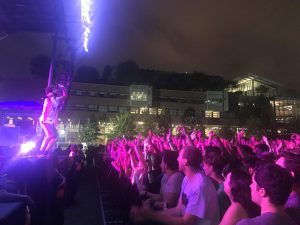 WHO WE ARE
• Agents that focus on you
• Staff that know how important your event is
• Music and comedy fans that follow the latest trends
• Curators of live events across the country
WHAT WE DO
• Bring the talent to you
• Connect the dots and handle the details
• Create the fan experience you want
• Leverage our skills and assets to help you
HOW YOU BENEFIT
• Greater access to talent
• Hands on experience
• More time to focus on you and your audience
• Insider Info to give you the edge
WHO WE ARE
Concert Ideas exists for one reason: to help you create and enjoy the best live event experience possible. Our team has over 100 years of combined experience and we take pride in our honesty, work ethic, and dedication to our clients.
We've helped- and continue to help – hundreds of schools produce thousands of events. No matter what budget you have, and no matter what your needs are, we can help.
Don't take our word for it: check here for some references:
Adam and his team at Concert Ideas make it possible for us to execute major events. I do not have a background in concert production and neither do most students. Concert Ideas does the heavy lifting for our concerts. They help us build a list of feasible options, provide their industry expertise to make smart decisions, caution us when necessary, and are always cost conscious.

Northern Michigan University

I have had the privilege to work with Concert Ideas now for three years and several concerts. It has been a very seamless experience full of quality customer service. We use Concert Ideas for several of our concert needs and I have direct experience booking artists such as Jon Bellion, Smallpools, and Panic at the Disco! with Concert Ideas. Everything from bouncing around ideas to day of show experience working with Concert Ideas has been great. Concert Ideas will work with you and your student leaders to ensure you have the best concerts and events. We have worked with Concert Ideas to strategize marketing, innovate new ways to approach a concert, and they have done so excellently. They have worked with our students to help them see different perspectives and understand how to work with an artist. Concert ideas is able to work with such a wide array of people and do so in both a professional and fun manner.

Valparaiso University

I am writing this reference at the request of Adam Tobey who has served as our middle agent for approximately 5 years. We have been very pleased with Concert Ideas level of service and expertise in booking and producing concerts. Adam has contacts with agencies large and small across the country, and therefore, no act is inaccessible. Adam's team is very helpful when it comes to editing contracts in the school's favor and advancing the show. As a former middle agent myself, I appreciate the heavy lifting Concert Ideas does, allowing me to focus on other aspects of my job.

Birmingham Southern College

FIU has been working with Concert Ideas for more than a decade. They are the best in the field of talent acquisition when it comes to universities. Because of their experience with the clients such as universities, they insure that the acts are current and effective for the community they are working with.

Florida International University

Concert Ideas has an impeccable reputation because of people like Adam. When working with Concert Ideas you're building a relationship that will last for years. I feel confident about the performers I have been able to help students bring to campuses because of Adam and Concert Ideas. Simply put, I trust no one else.

Wright State University

I have worked with Concert Ideas as out exclusive agent for more than 15 years. They have proved to be professional, efficient, and comitted to helping us select, book, and present the best possible concerts.

University of North Georgia

Our department works closely with Concert Ideas throughout the school year and leans on them when it comes to recommendations and advice on bidding. We have a great deal of trust in the people of Concert Ideas and know that they have our best interests at heart when consulting us. The large and diverse student body here at Rutgers can make things complicated when it comes to picking acts for shows, whether it's a large concert or a medium-sized comedy show or lecture. Concert Ideas' knowledge of current trends and artist availability makes our job infinitely easier.

Rutgers University

I am consistently and overwhelmingly satisfied with the service, attention to detail, professionalism, wisdom, attentiveness, and care I have received from Concert Ideas throughout the years.  They want to get it right and they will do everything in their power to make sure you put on an event that creates lasting memories for your students.

Hendrix College

I love working with Concert Ideas. They helped me, a new professional, plan and execute my first major college concert from A-Z. Since then, I've learned more about the process and all that goes into a large-scale event. Thank you for all you do – it's really appreciated!

Babson College

We have worked with Dave from Concert Ideas for the past few years on multiple concerts and he has made the experience so easy.  He is always quick to respond to questions and is very knowledgeable about the industry.  He takes the worry and stress out of programming a large show!

Michigan State University

We are closing out our 4th year of shows with Concert Ideas as our partner booking agency and it has been a pleasure working with Adam Tobey throughout this time. Adam gives us honest recommendations on artists and his team works hand in hand with us through bidding, booking, contract negotiation and the advance process. We have always felt like Concert Ideas has our back leading up to a show. Post shows, Adam follows up for our honest feedback on artists the agency represents. Concert Ideas is truly an ally and Adam works tirelessly to help us put on the best shows for our students. Just recently he worked around the clock to assist with a very last minute unforeseen situation and took into consideration our desired schedule as well as the artists' to present us with a mutually beneficial outcome.  Adam's work on our most recent show was impressive and a true testament to the type of relationship between Bowdoin Student Activities and Concert Ideas. We trust Concert Ideas with our shows and look forward to continue working with them next year!

Director of Student Activities, Bowdoin College

My experience of working with Concert Ideas has always been positive and professional. In the 4 years I have worked with Dave and Concert Ideas, I have never had any issues with them and they have always resolved any problems or situations we encountered with artists, venue, production, etc. I would recommend anyone looking for a Concert/Entertainment promoter to use Concert Ideas.

University Program Coordinator, Sam Houston State

Concert Ideas have played an integral role in the success and growth of Penn State Movin' On. Their staff are true professionals to work with.   No matter the size of the act, they work to ensure that your students and university have the best possible show.  They truly understand the needs of the college market, providing support and guidance at all levels during the concert planning process.  They have proven their ability to secure sought after talent as a result of their strong reputation and understanding in the industry.  The partnership Concert Ideas has built with Penn State Movin' On has gone above and beyond expectations.

Assistant Director, Residence Life The Pennsylvania State University
WHAT WE DO
Concert Ideas does it all: we'll help you through the entire event process and get you the access and results you want.
Our services are completely customizable and determined by you. Some of these services are:
• artist availability
• background/reference checks
• offer submission
• vendor management
• contract & rider negotiation
• staffing
• sound, lights, staging & all production
• security
• meet and greets/photo ops
• social media campaigns
• ticketing
• on site event management
• marketing
• mentoring
• educational opportunities
HOW YOU BENEFIT
Concert Ideas will save you time, effort, and money, as well as pull back the curtain and show you how to get the access and show you want.
​